South Africa's new inland fisheries policy aims to unlock its potential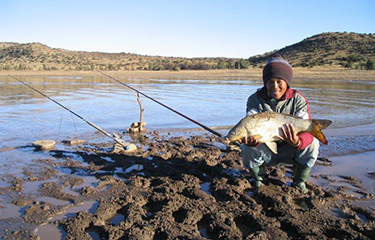 South Africa has stated that it is committed to taking advantage of the recently approved inland fisheries policy to unleash the potential of the country's inland fishery resources with the aim of achieving the goals of food security, creation of jobs and economic development.
South Africa's Forestry, Fisheries and Environment Minister Barbara Creecy said in an opinion piece published in News24 that the recent approval of the National Freshwater (Inland) Fisheries Policy of South Africa is transforming the country's small-scale fishing sector by tackling several obstacles that have hampered growth, leaving many fishermen impoverished despite the fact that fishing plays various roles in their livelihoods, ranging from "From part-time fishing for food to full-time commercial activity".
In September 2021, the South African Cabinet approved the policy "to support and guide the sustainable development and management of the inland fisheries sector", using methods, including legislative reform, to empower rural communities and increase l " equitable access to sustainable resources.
Currently, according to Creecy, freshwater peaches have short value chains and are typically either sold fresh or consumed by fishermen on the same day.
"South Africa's inland fisheries are managed in terms of conservation and biodiversity objectives and are not sufficiently recognized as a livelihood opportunity, source of food security or contributor to the economy," he said. she declared. "Artisanal fishermen have expressed concern that their fishing rights, traditional and customary fishing practices, as well as their contributions to rural livelihoods are not recognized by government and other stakeholders, despite knowledge indigenous peoples relating to traditional and customary culture, gear and fishing gear. governance of common resources is present in some communities and has been adapted to modern circumstances.
The new policy guarantees an integrated multidepartmental and multistakeholder approach to the sustainable development of the inland fisheries sector, while meeting the current need for transformation and growth of value chains linked to the inland fisheries sector.
Going forward, Creecy said informal and unrecognized activities of artisanal fishermen in inland areas will now be formalized. She added that her department will enact national and provincial legislation that allows the issuance of permits and authorizations to individuals, legal entities or community groups – a departure from the current situation, where fishing activities are regulated by provincial departments responsible for environmental management.
"Inland fishing permits and authorizations will continue to be issued in terms of provincial environmental laws, ordinances and regulations as work surrounding the legal framework for inland fishing proceeds," Creecy said.
As part of the new policy, the South African Department of Forestry, Fisheries and the Environment is adopting what it calls an "ecosystem approach to fisheries" which would "increase the contribution of fisheries to sustainable development by taking into account ecological constraints, such as habitat protection and restoration, pollution reduction, waste management, [and] sustainable exploitation of fishery resources.
The minister pledged to ensure that artisanal fishermen living near a body of water of interest are given priority when issuing permits "without unfairly discriminating against other resource users".
"An efficient and user-friendly registration and licensing system for all categories of resource users will be explored by the department," she said.
Photo courtesy of the South African Institute for Aquatic Biodiversity