Everybody on the bridge ! Major expansion for a boat dealership | Local News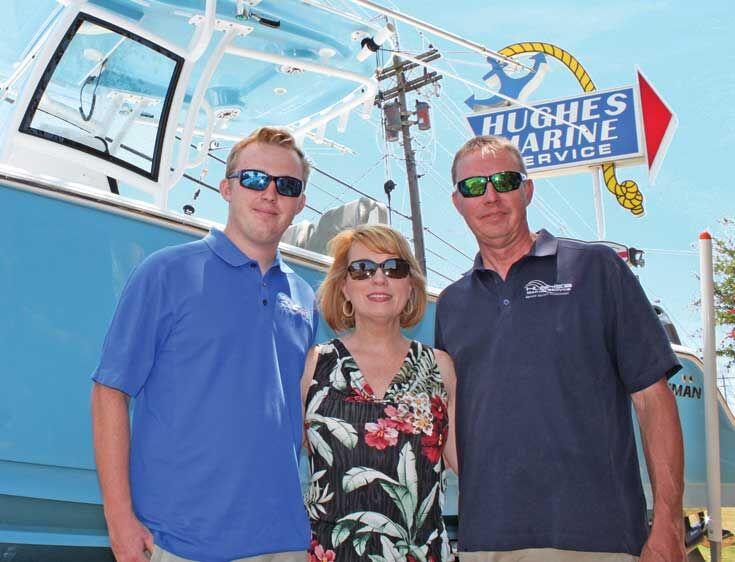 (The following article is featured in the latest issue of Lake Life Magazine available this week.)
After more than half a century of activity, a boat dealer in the region is tripling its indoor showroom.
Hughes Marine Service, Pittsylvania County's only marine dealer, opened in 1965. The dealership is approximately 30 minutes from Smith Mountain, Leesville, Hyco and Mayo Lakes.
Once the project is complete, the air-conditioned showroom will have room for 20 or more boats, 10 WaveRunners and a large props and parts service.
"We're very excited about this," said co-owner Mary Yeaman. "There will be nothing like it in this half of the state."
The small business currently employs 15 people, but her husband and co-owner Andy Yeaman noted that the expansion will also create jobs in the community.
"It's going to change everything," he said.
Gaither Hughes started the business before Smith Mountain Lake, the largest man-made lake located entirely in Virginia, was even filled with water. His first hire was Carroll Yeaman, father of current owner Andy Yeaman, to serve as a mechanic.
Hughes died suddenly three years later and Carroll Yeaman continued to run the business for his widow, Brenda Willis, until 1989 when he bought the business.
"Once our family bought them back, it became a family affair," said Mary Yeaman. "Since then, we have not stopped growing.
Hughes Marine is consistently one of the top five Yamaha dealers in the country.
"It's deceptive what we're able to do with little old Virginia," Mary Yeaman said with a laugh.
While local boaters eyeing the Pittsylvania County side of Smith Mountain Lake are a big part of the business in Hughes, the Yeaman family sells boats all over the East Coast from Maine to Florida. Recently, they even sold a boat to two brothers from Texas.
"We have a very large Internet presence," said Andy Yeaman. "We can have the model or the color they want. Now, with what's going on with COVID, stocks are very low. People cross the country to buy a boat.
Even before COVID, Hughes was and is a low to high volume marketer. Usually around June, the company has 20 to 30 pontoon boats on the site. April to June is high season for Hughes Marine.
"We're coming back from Christmas and it's getting off to a good start because of the boat show season," said Andy Yeaman.
As crazy as it sounds, said Mary Yeaman, COVID has been a triumph for the family business.
"It made people slow down and spend more time at home," she said. "Boating is naturally socially distanced. Suddenly many of our clients who were just weekend residents moved to the lake full time. Our season exploded last year.
As was the case with most, however, COVID has also brought a unique set of challenges to the family business.
"The challenge started when availability ran out," said Mary Yeaman. "The factories were closing. Yamaha WaterCraft may have had a whole fleet of boats built, but no windshields because the windshields were built in New York City. Nothing could be shipped.
As fears and exposures to COVID grew, it began to wipe out boat production factories, the couple said.
"We're still struggling with parts for service and delays," said Mary Yeaman.
Andy Yeaman added, "From what I'm reading, the industry is looking at a two-year recovery to get inventory anywhere near where it needs to be. Parts, trailers, engines, boats – it's all going to be a struggle for the next 24 months. "
Andy Yeaman said most of the customers were understanding. However, he laughed, as the weather warms, the level of sympathy decreases.
The couple's son, Drew Yeaman, is a freshman ocean engineering at Virginia Tech. He works for the family business this summer and said his parents' occupation has been the most influential in his career aspirations after college.
"I want to go to work for someone else first," said Drew Yeaman. "I want to be a boat designer and work for some manufacturers, then come back here. "
Drew Yeaman once said that when you do what you love, you never work a day in your life.
"It applies to all of us. Boating is our passion, "replied Mary Yeaman. "That's what we do on weekends. This gives us insight into our customers. There are only ten summer weekends – we are committed to getting you back on the water because we know how it would feel if we enjoyed our weekend plans.
Read more stories in the current issue of Smith Mountain Eagle newspaper. If you are a subscriber, consult the electronic version at www.smithmountaineagle.com/eedition. If not subscribed, pDownload a print edition or subscribe at www.smithmountaineagle.com/subscriber_services.